At the end of my tour in October, I went to Cluj, Romania. I was invited by Deutsches Kulturzentrum Klausenburg to play a solo concert at Boiler Club, which is located in the basement of the Fabrica de Pensule, a nice place with lots of studios and galleries in one old factory bulding. The night was called mad scientist drummer and featured The Origin Project, 7th Sphere and Sebastian Arnold.
For the flight I had to downsize my setup to just the Nord Modular G2, Nord Rack and the trigger pad. I took a netbook with me to handle the Loopdeck stuff and used a stage mixer the venue provided. While rearranging the devices, I realized how many problems I have solved over time in my normal setup. For example, I was missing the mixer light (essential on dark stages with video projection) and my DBX master compressor (makes it more easy to provide a steady master level), had to recreate multiple mixer busses for my own monitoring and also couldn't take the MIDI router with me. It has some logic build inside to handle some things the Nord Modular is not able to do, e.g. starting and stopping its own master clock.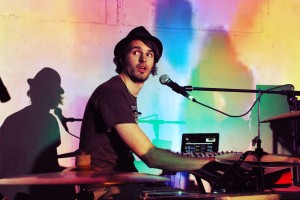 Finally, I was really excited and had a great show with lots of people coming to Boiler. The setup was unusual to play, but everything went well and sounded pretty good, with me freaking out totally on Low Flight and people dancing all night! Many German-speaking people live in Cluj, so they really liked the song Mnemesys with the German lyrics. The image on the left was taken from Laura's blog post on that night at Boiler Club. Her post includes many pictures of the show and seems to be really enthusiastic if the Google translation was right – I really enjoy getting such a feedback!
After my own show, I joined Florin and Lu from 7th Spere on stage, a local club music project with DJ and visuals. The set was totally improvised and we played another hour and put up some really inspiring grooves in a moderate club tempo. I'm really thankful they asked me to do a video interview and produced a documentary about our collaboration which you can see here:
(Update: this is now the video about my solo concert, you can find the documentation about 7th Sphere feat. Sebastian Arnold here and the full live set on SoundCloud.)
I met a lot of nice people on the following day in Cluj. We were jamming in the rehearsal space of Norbert, who was so kind to lend me his cymbals for the concert. His band is currently working on new songs that base on electronic productions and I was asked to bring in some of my ideas and experiences in that area. Finally, we met 7th Sphere Project again for the interview at a teahouse.
I want to thank Fabian and Ildikó for the invitation and their great support. These were some impressive days in Cluj and I'll try to come back as soon as possible.
Wikipedia Article on Cluj